Image Design by Ephraim Judah
And Moses turned, and went down from the mount, and the two tables of the testimony were in his hand: the tables were written on both their sides; on the one side and on the other were they written. And the tables were the work of Elohim, and the writing was the writing of Elohim, graven upon the tables. Shemot (Exodus) 32:15-16
YAVOH MAGAZINE FEBRUARY 2011
When God spoke and then wrote the ten commandments with His own finger on tablets of stone, man received the first Scripture. Moses then continued to write God's instructions and we had the beginning of the Torah and the Bible. One could argue that the first words of the Bible are not "In the beginning…" but, "I am the Lord your God…"
The Ten Commandments are given to us in two separate passages. The first is Exodus 20 where Moses gives us the chronology of the journey to Mount Sinai, but in Deuteronomy 5 Moses repeats the words teaching us some additional profound things about how the commandments were given.
In general, Christians recognize the Ten Commandments but are confused as to what the actual ten commandments are. Most Christian renditions begin with the second of the ten instead of the first commandment. Jews and Messianics may agree on what the ten are but do not necessarily agree on the standards or conditions of the commandments themselves, such as the observance of Sabbath, which is subject to much debate.
Torah teachers will tell you that when Scripture repeats itself, such as Exodus 20 and Deuteronomy 5, something very profound is being presented. There are no more profound Scriptures in the Torah than the Ten Commandments because Israel heard God speak these words directly to their ears at Mount Sinai.

IF MESSIAH Y'SHUA INSTRUCTS US;"IF YOU LOVE ME KEEP MY COMMANDMENTS!"
THEN WHY HAVE WE FORGOTTEN ONE OF HIS COMMANDMENTS?
DO WE NOT BELIEVE MESSIAH Y'SHUA (JESUS OF NAZARETH) WHEN HE TELLS US:

"I AND MY FATHER ARE ECHAD (ONE)"
WHICH COMES FIRST DA ORIGINAL OR THE IMITATIONS?
AMONG THOSE WHO CLAIM TO BE THE TRUE CHILDREN OF THE ELOHIM OF ABRAHAM, ISSAC, JACOB, AND MESSIAH YAHSHUA IF WE ARE TRUE FOLLOWERS OF THE ELOHIM OF YISRAEL WE NEED TO HEED THESE WORDS:

I AND MY FATHER ARE ONE (ECHAD A COMPOUND UNITY) YOHANNAN (JOHN) 10:30

IF YOU LOVE ME KEEP MY COMMANDMENTS YOHANNAN 14:15

IF YE KEEP MY COMMANDMENTS, YE SHALL ABIDE IN MY LOVE; EVEN AS I HAVE KEPT MY FATHER'S COMMANDMENTS, AND ABIDE IN HIS LOVE. YOHANNAN 15:10

SURELY DA 10 COMMANDMENTS AS YAHUWAH REVEALED TO MOSHE (MOSES) UPON MOUNT SINAI WERE IN THE ANCIENT PALEO HEBREW, THUS IN ORDER FOR US TO MORE FULLY UNDERSTAND DA TRUE HEART OF OUR CREATOR WE SHOULD LOOK FOR AN ACCURATE TRANSLATION OF DA ORIGINAL 10 COMMANDMENTS INTO OUR OWN LANGUAGE. AS ENGLISH HAS BECOME DA PRIMARY LANGUAGE OF DA INTERNET LET'S FIRST EXAMINE 2 RELIABLE SOURCES OF TRANSLATIONS FROM DA HEBREW SOURCE INTO THE ENGLISH LANGUAGE:
FROM THE WEBSITE WW.HEBREW4CHRISTIANS.COM
THE TEN COMMANDMENTS
PLEASE NOTE DA HEBREW AND ENGLISH NUMBERS ON THE FOLLOWING GRAPH OF 1 TO 14 DOES NOT IMPLY DAT THERE ARE 14 COMMANDMENTS: #1 & 14 BRACKET THE 10 COMMANDMENTS IN FULLER CONTEXT IN DAT YAHUWAH SPOKE THE TEN COMMANDMENTS INTO BEING JUST AS HE SPOKE CREATION INTO BEING.
B'RESHIYT (GENESIS)1:3 WHILE #14 SIGNIFIES DAT THE CHILDREN OF YISRAEL WERE DA EYE WITNESSES OF DA AWESOME VOICE AND OMNIPOTENT POWER OF YAHUWAH
HERE IS DA KEY:
DA ENGLISH # 2 IS DA FIRST COMMANDMENT
#3 THRU #5 ES DA SECOND COMMANDMENT
#6 IS DA THIRD COMMANDMENT
#7 THRU 10 ES DA FOURTH COMMANDMENT
#11 IS DA FIFTH COMMANDMENT
#12 INCLUDES DA SIXTH, SEVENTH, EIGHTH, AND NINTH COMMANDMENTS
#13 IS DA TENTH COMMANDMENT
NOW DAT WE HAVE EXAMINED SOME COMPLETE HEBREW TO ENGLISH TRANSLATIONS OF DA ORIGINAL TEN COMMANDMENTS LET'S EXAMINE A QUICK BRIEF COMPARISON CHART TO EXAMINE DA DIFFERENCES BETWEEN DA MODERN UNDERSTANDING OF DA ORIGINAL 10 COMMANDMENTS BY THESE GROUPS WHO CLAIM THAT THEY ARE THE TRUE FAITH: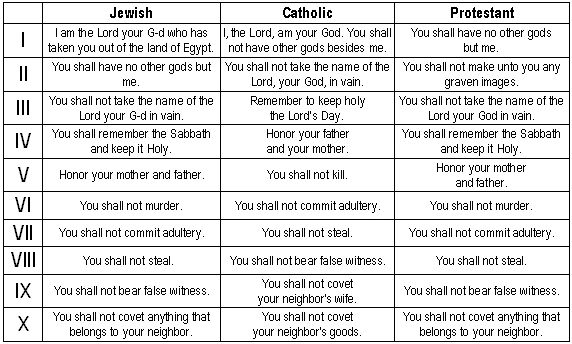 WHAT WE MAY DISCOVER IS THAT BOTH THE CATHOLIC AND PROTESTANT VERSIONS DO NOT EMPHASIZE THE TRUE IDENTITY OF YAHUWAH WHO BROUGHT THE CHILDREN OF YISRAEL OUT OF DA LAND OF EGYPT (MITZRAYIM DA LAND OF TRIALS AND TRIBULATIONS)