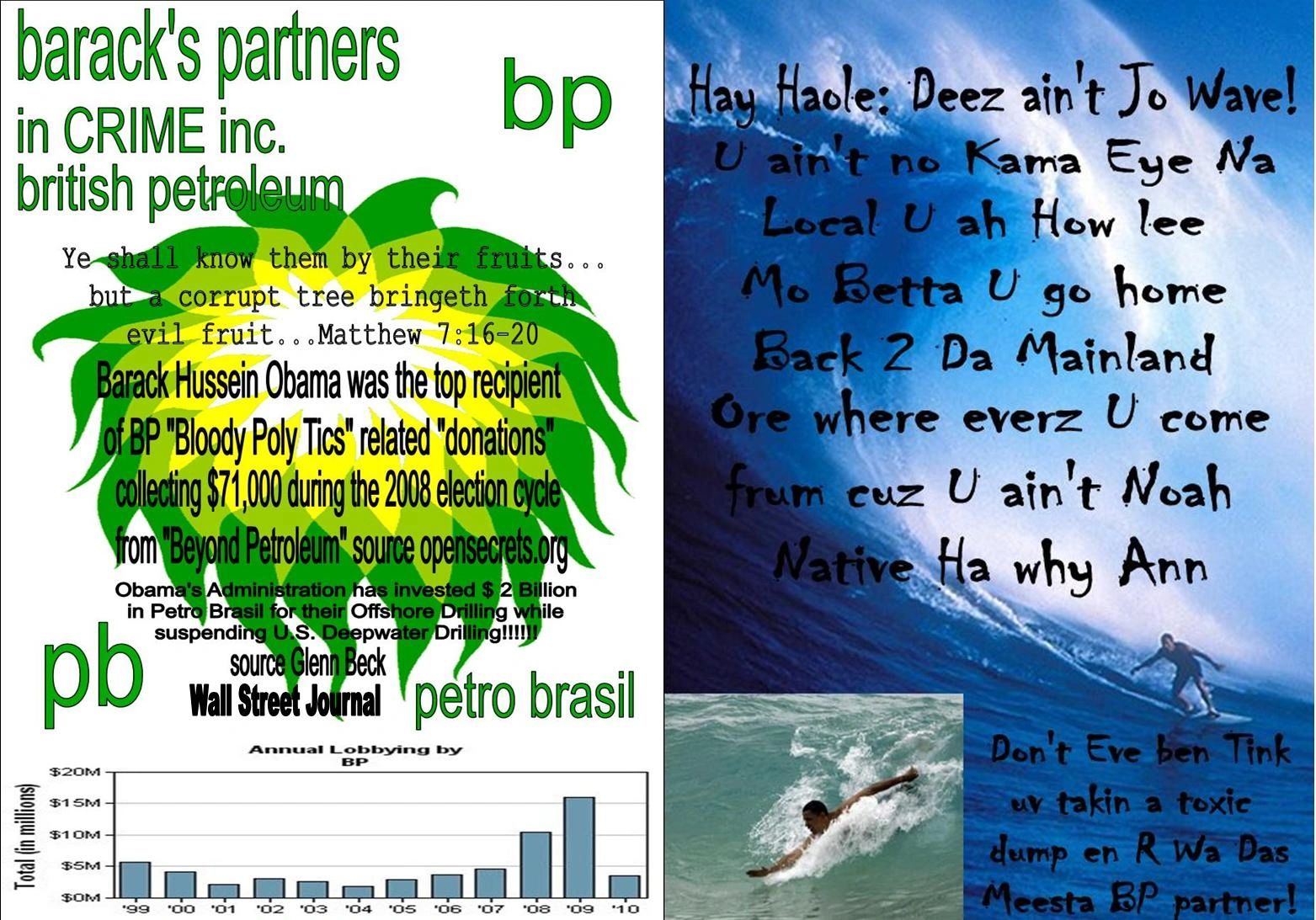 Is Obama at the Vanguard of Financial Foreknowledge of the Gulf Oil Disaster?
BP & PB: Obama's Partners in CRIME inc. British Petroleum and Petro Brasil
Da Real Masters of Illusion's Fiddle around playing Golf, while the Gulf Burns!

"The threat of environmental crisis will be the international disaster key that will unlock (UN LOCK) the New World Order".
Mikhail Gorbachev

When BP CEO Tony Hayward laments that he "wants his life back" does he mean the lifestyle he enjoyed before he sold 223,288 shares worth 1.7 million Euros of stock in his own company BP on March 17, just weeks before the explosion on board the Deepwater Horizon rig? Liquidating his BP stock in mid-March enabled him to pay off the mortgage on his families mansion in Kent,as he avoided the over 40% drop in BP stock value since the Gulf disaster began on April 20. Gee EYE wonder when Shorty Hayward may choose to ever replenish his BP stock shares?

What really went on behind closed White House doors when BP execs Hayward, and Chairman Carl-Henric Svanberg were getting spanked to the tune of $20 Billion by our "Ass Kicker" in Chief? Some thanks they must have received for the $71,000 raised by BP for Obama's 2008 Campaign! Some thanks they must have received for BP's vanguard Carbon Tax/CAP & TRADE lobbying position in D.C. How can Beyond Petroleum possibly survive this plunge in their stock value, while making a $20 Billion contribution to Obama's Gulf Trust Fund? Quite simply BP has shrewdly positioned itself to profit immensely from a global carbon tax, and BP are: Barack's Partners in ushering in CAP and TRADE under whatever shape and form our Transformer in Chief can Rahm it down Amerika's throat!

BP and Goldman Sach's financial entanglements run deep with former BP Chairman Peter Sutherland being the current Chairman of Goldman Sach's. Goldman one of Obama's most cherished campaign financial supporters sold off nearly 50% of it's shares of BP Stock during the 3 weeks prior to the Deepwater Oil rig explosion...

"Goldman Sachs wasn't alone in it's astute "foreknowledge" of the collapse of BP's stock value due to the Gulf disaster. The investment company Vanguard via Vanguard Windsor Investor, and Windsor Investor II bailed out of over 1.5 million shares of their BP stock saving their mutual fund investors hundreds of millions of dollars, chief among them being President Obama...who holds wealth in two vanguard funds...

Halliburton had the fortunate foresight to seal the deal with Boots and Coots the world's premier Oil rig fire, and oil spill clean up specialists...Guess who was awarded primary clean up detail by BP and the Obama Administration...Why is Keith Olbermann calling this disaster "Cheney's Katrina" when it looks more like Obama's 9/11 call since "Day One"...

READ DA REST OF DA STORY ON DA NEW SEIZE WORLD REPORT:
IS OBAMA AT THE VANGUARD OF GULF OIL SPILL FINANCIAL FOREKNOWLEDGE? : BP "BARACK'S PARTNERS" AND PB "PETRO BRAH'S" DA TOXIC STANK UV DA NEW WORLD ODOR HIGH SEIZE MONEY TRAIL !