"About the time of the end a body of men will be raised up who will turn their attention to the prophecies, and insist upon their literal interpretation, in the midst of much clamor and opposition." Sir Isaac Newton

CHEMTRAILS & DA PRE-TRIB RAPTURE FIB: DA SIGNS OF DA TIMES?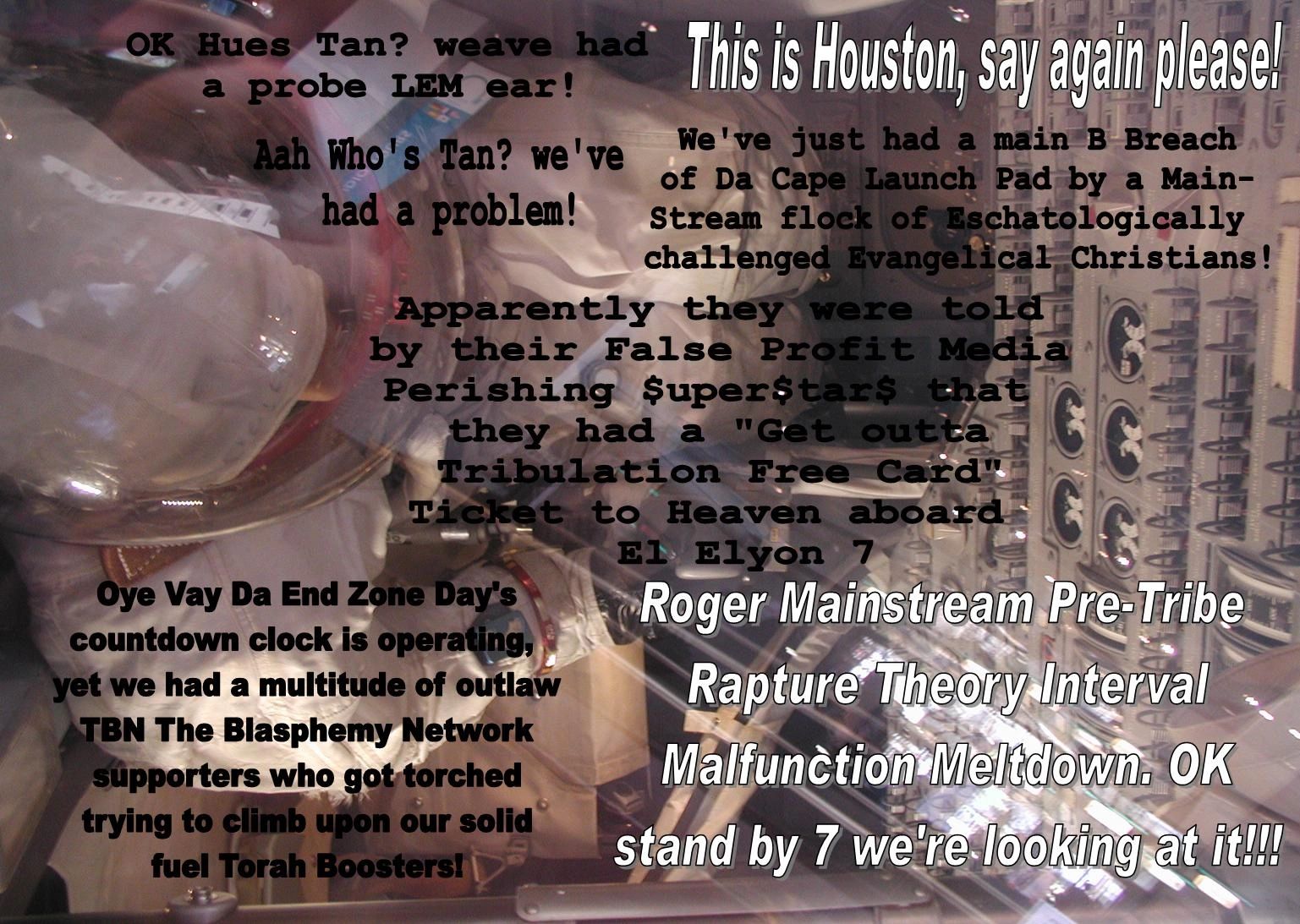 OK WHO'S TAN? WEAVE HAD A PROBE LEM EAR!!!
"THIS IS HOUSTON SAY AGAIN PLEASE";

OH HUES TAN WE'VE HAD A PROBLEM; WE'VE HAD ANOTHER BURNING FIERY FURNACE PROBLEM BACK ON LAUNCH PAD 3:6...

SEEMS A WHOLE MULTITUDE OF Evangelical Dispensational CHRISTIANS got torched back on da launchpad apparently trying 2 stowaway on EL ELYON 7...as they bowed before their fearless Televangelist Profits who told Dim they had earned enough points on their Pre-Tribe Rapture Get Outta Tribulation Free Ticket Reward's VISA Card for a Space Shuttle Ride up to Heaven. Apparently in their vain imaginations they thought DAT they could crash Da Wedding Supper FEAST of the LAMB years ahead of the itinerary of
YAHUWEH ELOHIM; even though they never even believed in observing the FEASTS OF YAH WHO WAY WHO INSTRUCTS US IN LEVITICUS 23 "EVEN THESE ARE MY FEASTS"

OH why have they chosen to believe in Fables Rather Dan to clear concise instructions of Messiah YAHUSHUA aka Jesus of Nazareth??? EWE NOAH DA JUAN WHO SAID "The First Shall be Last, and DA Last SHALL BEE FIRST!!!!!!!

THIS IS MISSION CONTROL SAY AGAIN PLEASE: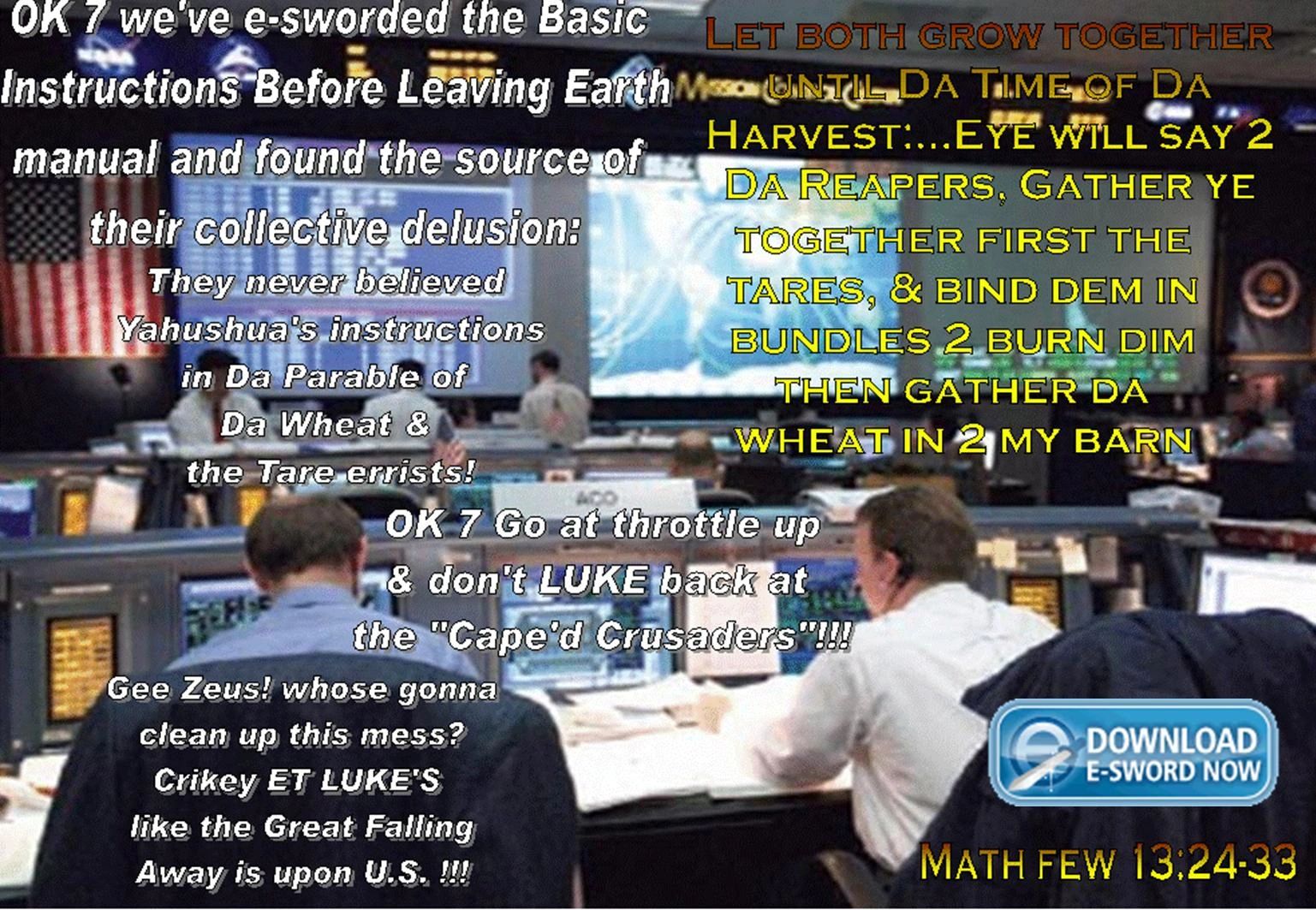 Post Modern Christian Fee owe logical Cemeteries (Theological Seminaries) and the Broadway that leadeth to destruction (Matt 7:13) Pied Piper Harlots of Tell evil angelic culls (Televangelical) Media False Profits who feed dim Selves instead of their Flocks have unknowingly set a snare to entrap the vast majority of Western Christians by tickling their flocks ears with a "Peace and Safety" message that they will be "taken up to Heaven and escape seven years before the actual return of the Messiah!!!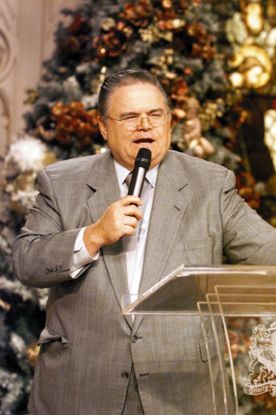 While these Wolves who feed themselves instead of their flocks are ever learning Bible Verse Sound-bytes to justify their vain imaginations they have no true love of the truth. Choosing to ignore the warning of Kefa (Peter the Apostle) by twisting the writings of Shaul (Paul the Apostle) to their own, and quite possibly your own destruction:
WOE BEE to the False SHEPHERDS who think that they have replaced the Twelve Tribes of Yisrael... EZ KEY EL 34 ...when their flocks are Da Lost Sheep of the 10 Northern Tribes of Yisrael!!!...MATT 15:24...EZ KEY EL 37
Looking for and hasting unto the coming of the day of God, wherein the heavens being on fire shall be dissolved, and the elements shall melt with fervent heat? Nevertheless we, according to his promise, look for new heavens and a new earth, wherein dwelleth righteousness. Wherefore, beloved, seeing that ye look for such things, be diligent that ye may be found of him in peace, without spot, and blameless. And account that the longsuffering of our Lord is salvation; even as our beloved brother Paul also according to the wisdom given unto him hath written unto you; As also in all his epistles, speaking in them of these things; in which are some things hard to be understood, which they that are unlearned and unstable wrest, as they do also the other scriptures, unto their own destruction. II Peter 3:12-16
What is truly amazing about these Multi-Millionaire False Profits is that they have chosen to elevate their Mentors twisted interpretations of the Epistles of Shaul, Rather Dan simply believe the clear concise message of Messiah YAHUSHUA aka YESHUA HA NATZERT aka JESUS OF NAZARETH.
Consider our Messiah's message in Da Parable of Da Wheat, and the Tares:
Another parable put he forth unto them, saying, The kingdom of heaven is likened unto a man which sowed good seed in his field: But while men slept, his enemy came and sowed tares among the wheat, and went his way. But when the blade was sprung up, and brought forth fruit, then appeared the tares also. So the servants of the householder came and said unto him, Sir, didst not thou sow good seed in thy field? from whence then hath it tares? He said unto them, An enemy hath done this. The servants said unto him, Wilt thou then that we go and gather them up? But he said, Nay; lest while ye gather up the tares, ye root up also the wheat with them. Let both grow together until the harvest: and in the time of harvest I will say to the reapers, Gather ye together first the tares, and bind them in bundles to burn them: but gather the wheat into my barn. All these things spake Jesus unto the multitude in parables; and without a parable spake he not unto them:
...That it might be fulfilled which was spoken by the prophet, saying, I will open my mouth in parables; I will utter things which have been kept secret from the foundation of the world. Then Jesus sent the multitude away, and went into the house: and his disciples came unto him, saying, Declare unto us the parable of the tares of the field. He answered and said unto them, He that soweth the good seed is the Son of man; The field is the world; the good seed are the children of the kingdom; but the tares are the children of the wicked one; The enemy that sowed them is the devil; the harvest is the end of the world; and the reapers are the angels. As therefore the tares are gathered and burned in the fire; so shall it be in the end of this world. The Son of man shall send forth his angels, and they shall gather out of his kingdom all things that offend, and them which do iniquity; And shall cast them into a furnace of fire: there shall be wailing and gnashing of teeth. Then shall the righteous shine forth as the sun in the kingdom of their Father. Who hath ears to hear, let him hear. MATTHEW 13